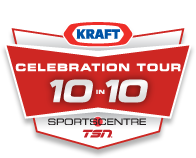 The Douglas grounds and the Montreal Wanderers RFC have been nominated for the 2012 edition of the Kraft Celebration Tour. If we win, we'll have $25,000 to put towards the improvement and renovation of our rugby grounds.
But we need your help!
Click here to learn about the Kraft Celebration Tour and how you can help the Douglas Hospital grounds be selected for this fantastic prize. Help us make the Douglas grounds the top rugby facility in Quebec!